Try these 15 massage blends using essential oils for rheumatoid arthritis, joint pain and inflammation. A natural remedy that eases swollen, painful joints unlocking the secrets of essential oils that have been used for centuries!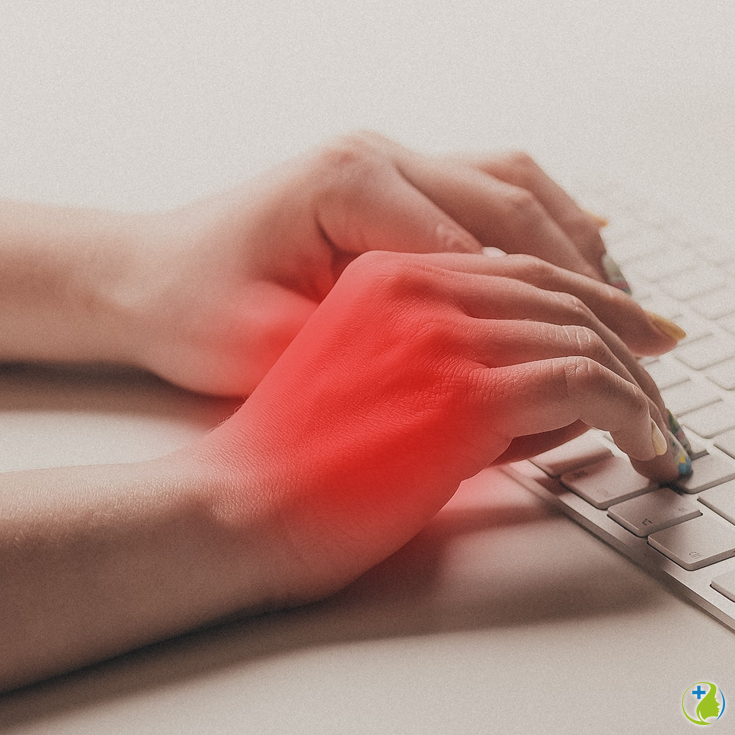 There are a number of essential oils that work wonders as a natural treatment for arthritis pain relief and also joint pain and inflammation.
You might like to read more about them in these articles:
15 Essential Oil Massage Blends for Rheumatoid Arthritis, Joint Pain & Inflammation
** Please patch test any essential oil that you are trying for the first time as you may have an allergy or irritation to it!
For each of these massage blends below simply add the essential oils and carrier oils to a glass bottle. Roll the bottle between your palms for a few minutes until the oils are completely combined. Apply to painful joints by massaging gently into the joint for a few minutes at least twice each day. Try the different blends to see which works best for you!
Rheumatoid Arthritis / Joint Pain / Inflammation Blend #1
3 drops Black Pepper essential oil
3 drops German Chamomile essential oil
3 drops Roman Chamomile essential oil
3 drops Lavender essential oil
3 drops Rosemary essential oil
2 drops Frankincense essential oil
1 oz Jojoba Oil
[asa ydp_text]B004O25R8A[/asa]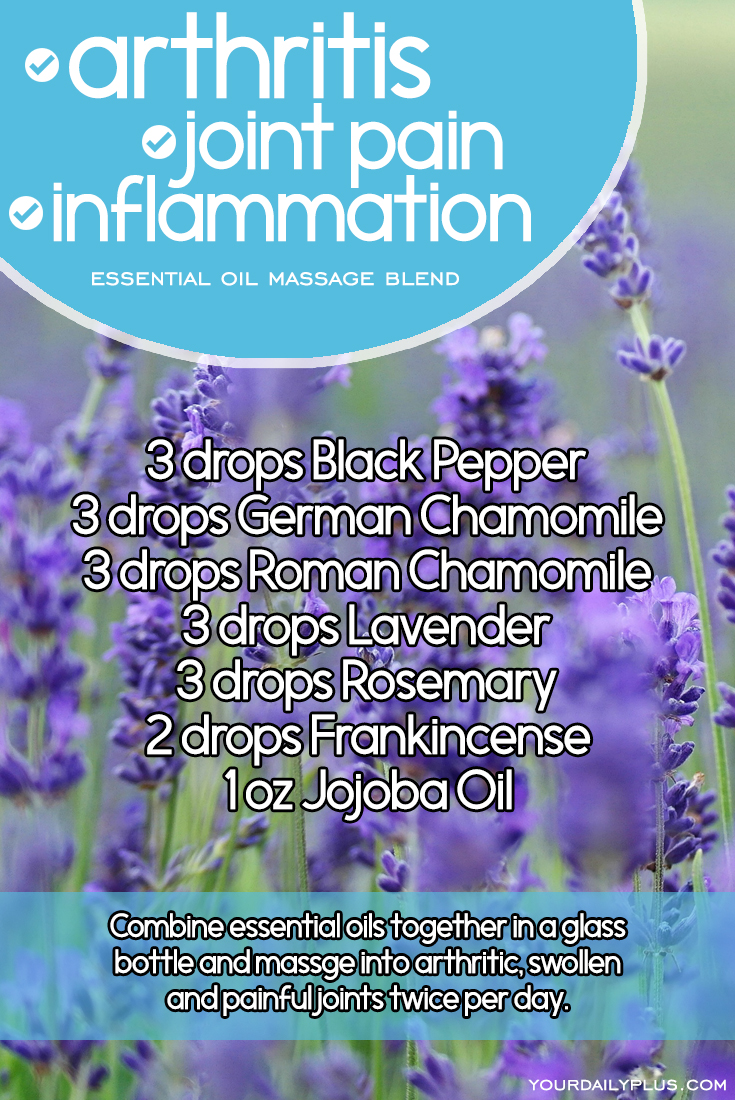 Rheumatoid Arthritis / Joint Pain / Inflammation Blend #2
3 drops Rosemary essential oil
3 drops Black Pepper essential oil
3 drops Marjoram essential oil
2 drops Frankincense essential oil
2 drops Peppermint essential oil
2 drops Roman Chamomile essential oil
1 tbsp Carrier Oil
[asa ydp_text]B0014UEQQY[/asa]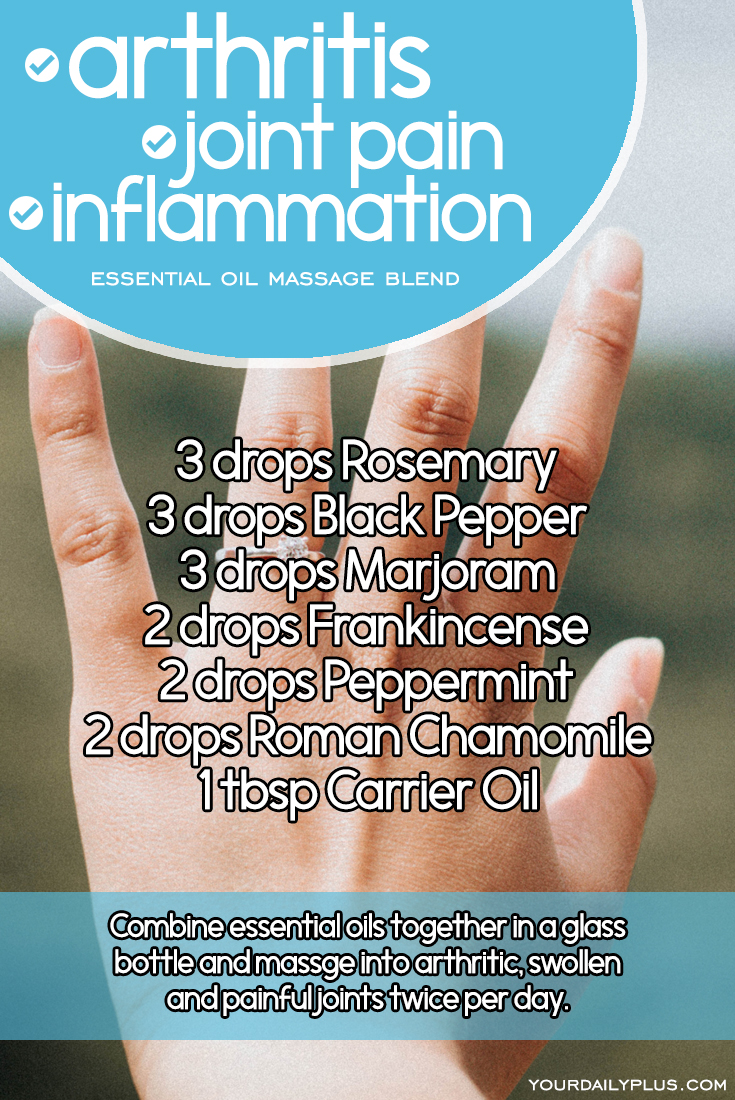 Rheumatoid Arthritis / Joint Pain / Inflammation Blend #3
3 drops Eucalyptus essential oil
5 drops Birch essential oil
3 drops Peppermint essential oil
10 drops Lavender essential oil
5 drops Rosemary essential oil
3 drops Frankincense essential oil
Top off with Carrier Oil
[asa ydp_text]B004O25R8A[/asa]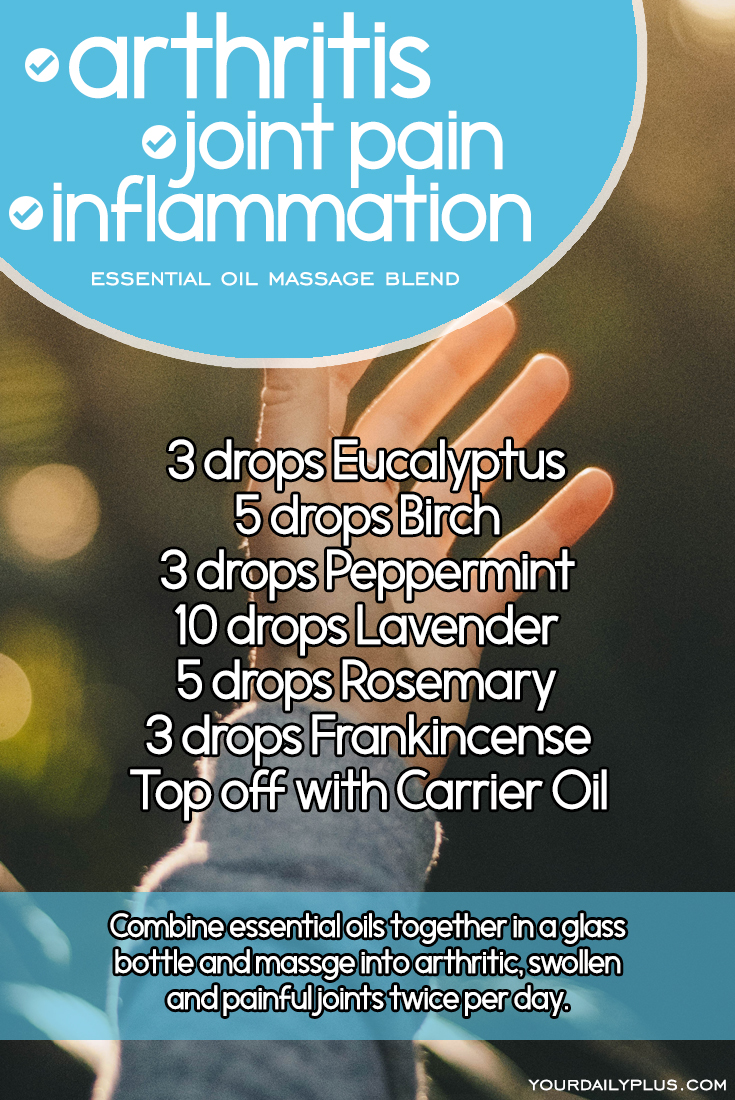 Rheumatoid Arthritis / Joint Pain / Inflammation Blend #4
5 drops Birch essential oil
5 drops Eucalyptus essential oil
3 drops Ginger essential oil
3 drops Peppermint essential oil
5 drops Orange essential oil
5 drops Rosemary essential oil
Top off with Carrier Oil
[asa ydp_text]B0062CTOY8[/asa]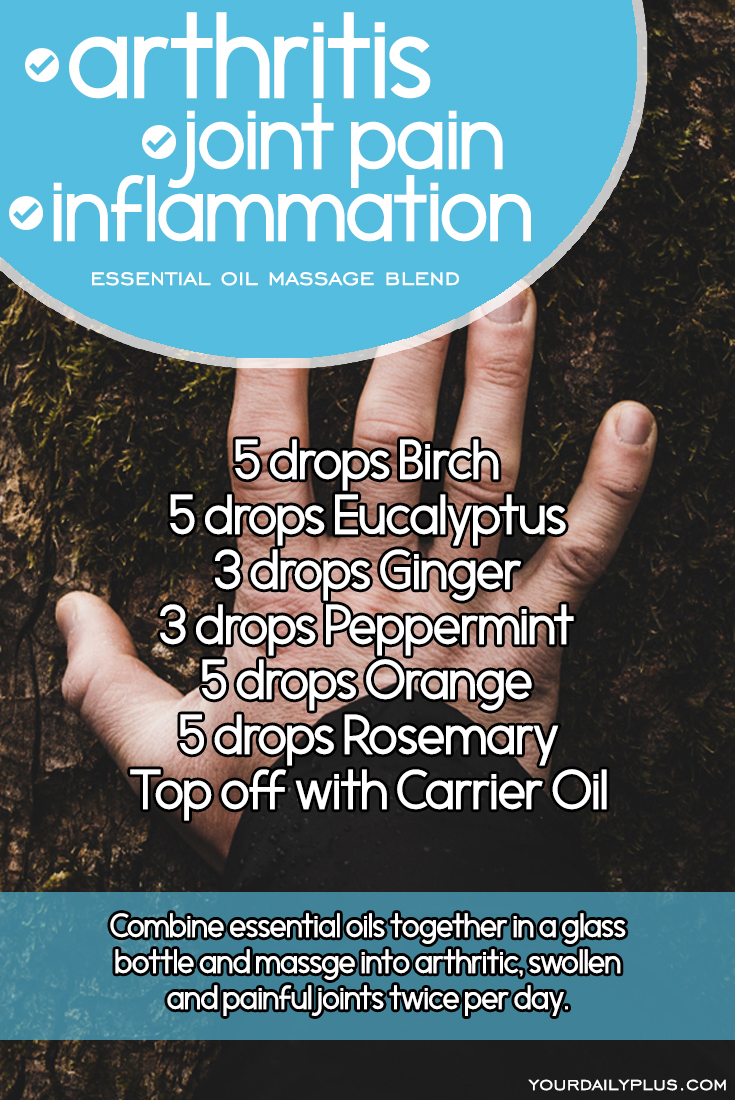 Rheumatoid Arthritis / Joint Pain / Inflammation Blend #5
18 drops Eucalyptus essential oil
18 drops Tea Tree essential oil
12 drops German Chamomile essential oil
6 drops Peppermint essential oil
6 drops Lemongrass essential oil
3 drops Rosemary essential oil
2 tbsp Coconut Oil
[asa ydp_text]B01N1856R7[/asa]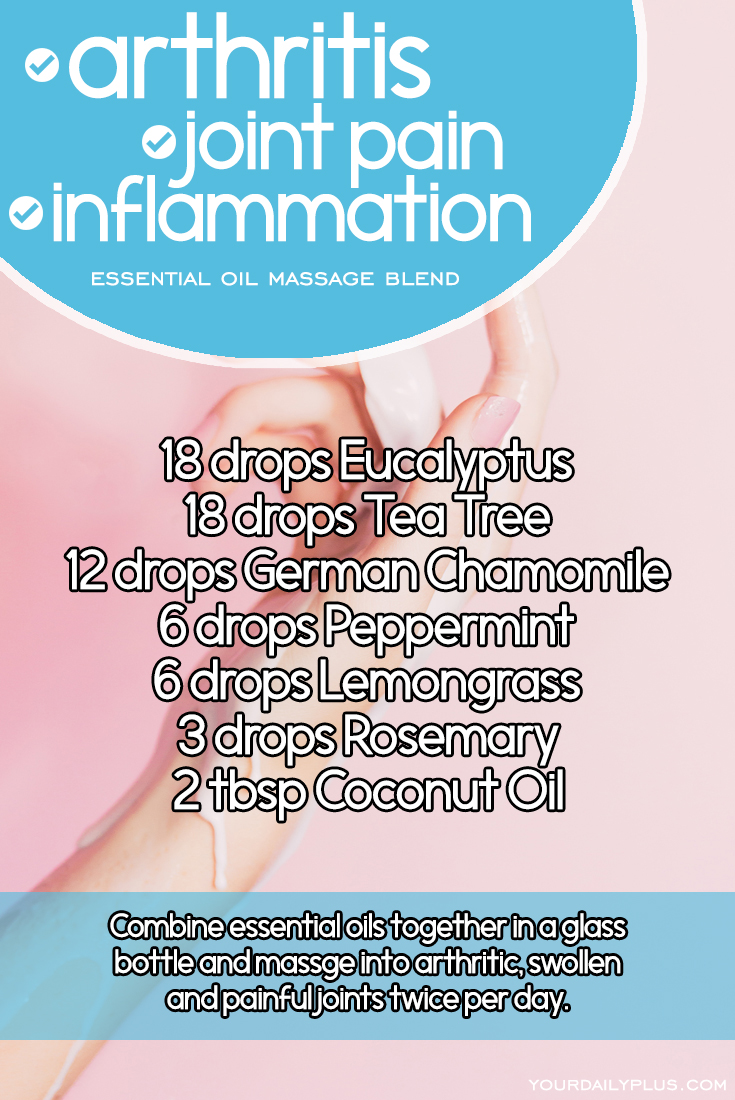 Rheumatoid Arthritis / Joint Pain / Inflammation Blend #6
8 drops Eucalyptus essential oil
10 drops Peppermint essential oil
12 drops Lavender essential oil
8 drops Tea Tree essential oil
4 drops German Chamomile essential oil
4 drops Roman Chamomile essential oil
Top off with Carrier Oil
[asa ydp_text]B0062C2IKA[/asa]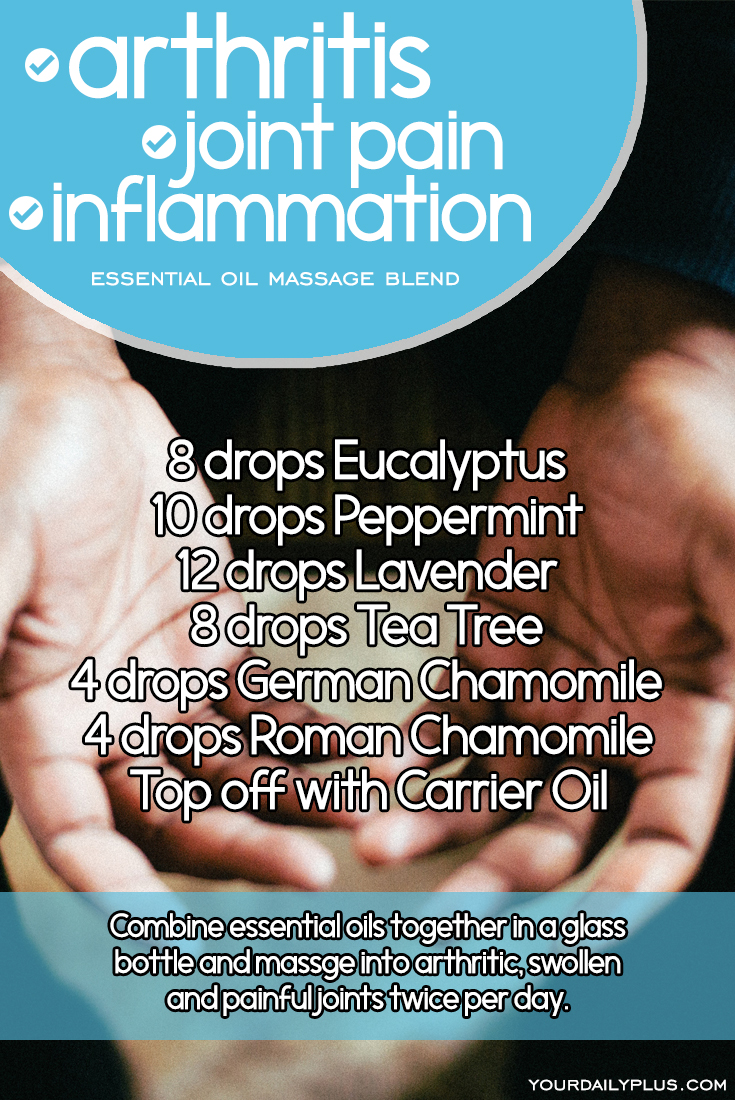 Rheumatoid Arthritis / Joint Pain / Inflammation Blend #7
3 drops Black Pepper essential oil
3 drops German Chamomile essential oil
3 drops Roman Chamomile essential oil
3 drops Lavender essential oil
3 drops Rosemary essential oil
1/2 oz Jojoba Oil
1/2 oz Coconut Oil
[asa ydp_text]B00X8FZODW[/asa]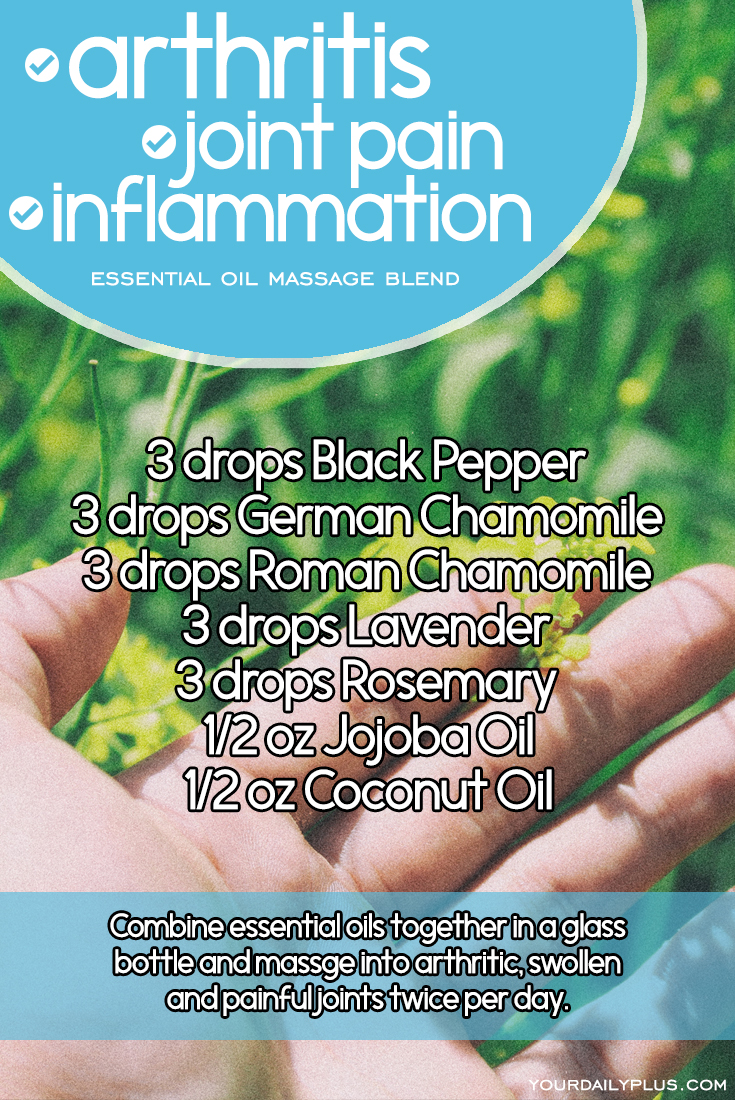 Rheumatoid Arthritis / Joint Pain / Inflammation Blend #8
10 drops Wintergreen essential oil
10 drops Eucalyptus essential oil
10 drops Frankincense essential oil
10 drops Lemongrass essential oil
8 drops Lavender essential oil
4 drops Orange essential oil
Top off with Coconut Oil
[asa ydp_text]B00P6ODS6I[/asa]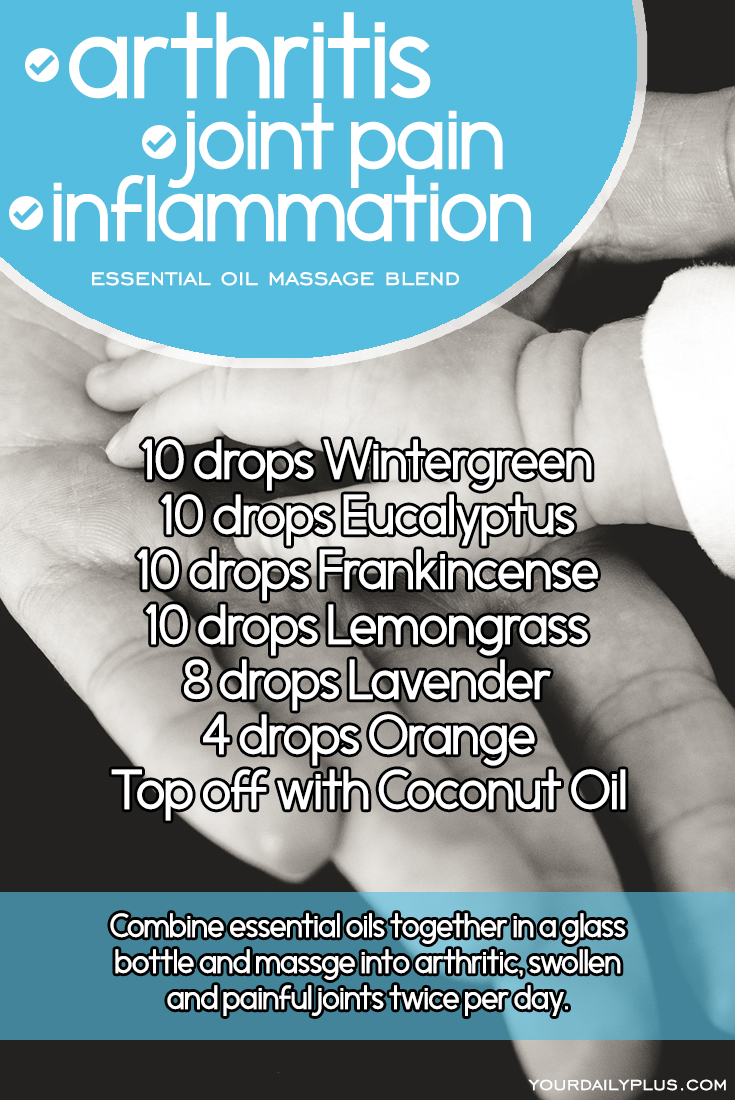 Rheumatoid Arthritis / Joint Pain / Inflammation Blend #9
8 drops Peppermint essential oil
4 drops Eucalyptus essential oil
3 drops German Chamomile essential oil
3 drops Roman Chamomile essential oil
5 drops Rosemary essential oil
50 ml Sweet Almond Oil
[asa ydp_text]B0062C2IKA[/asa]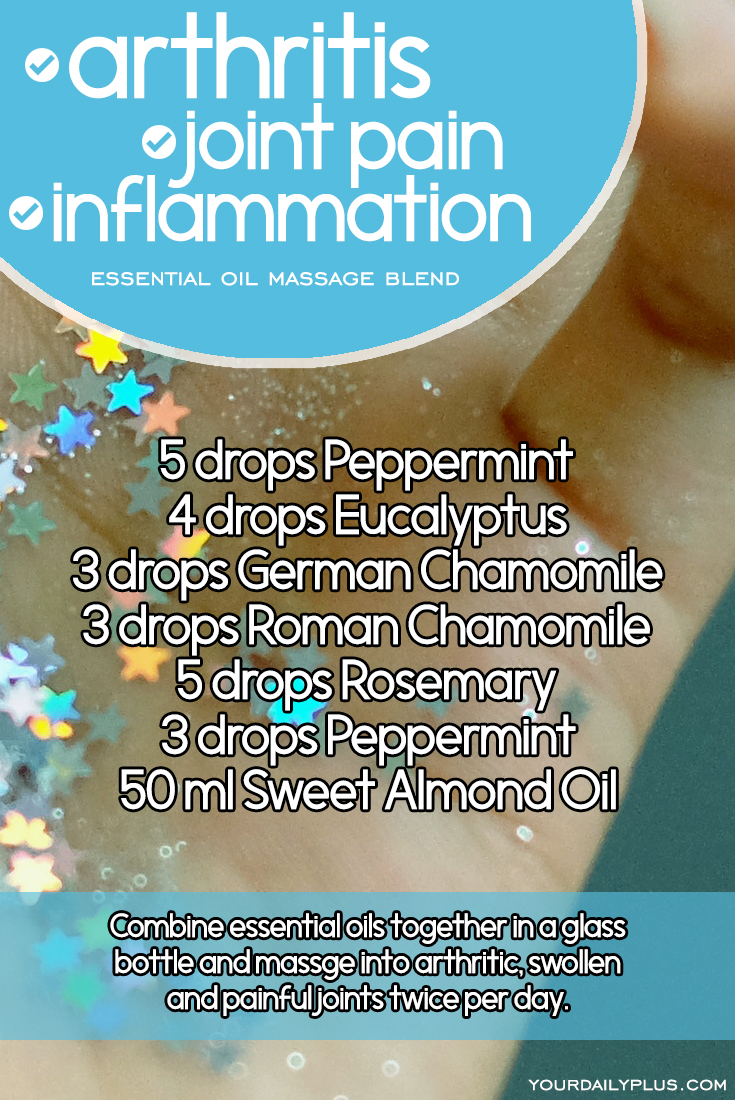 Rheumatoid Arthritis / Joint Pain / Inflammation Blend #10
8 drops Lavender essential oil
4 drops Marjoram essential oil
8 drops Eucalyptus essential oil
4 drops Rosemary essential oil
4 drops Peppermint essential oil
2 oz Sweet Almond Oil
1 tsp Jojoba Oil
[asa ydp_text]B004O25R8A[/asa]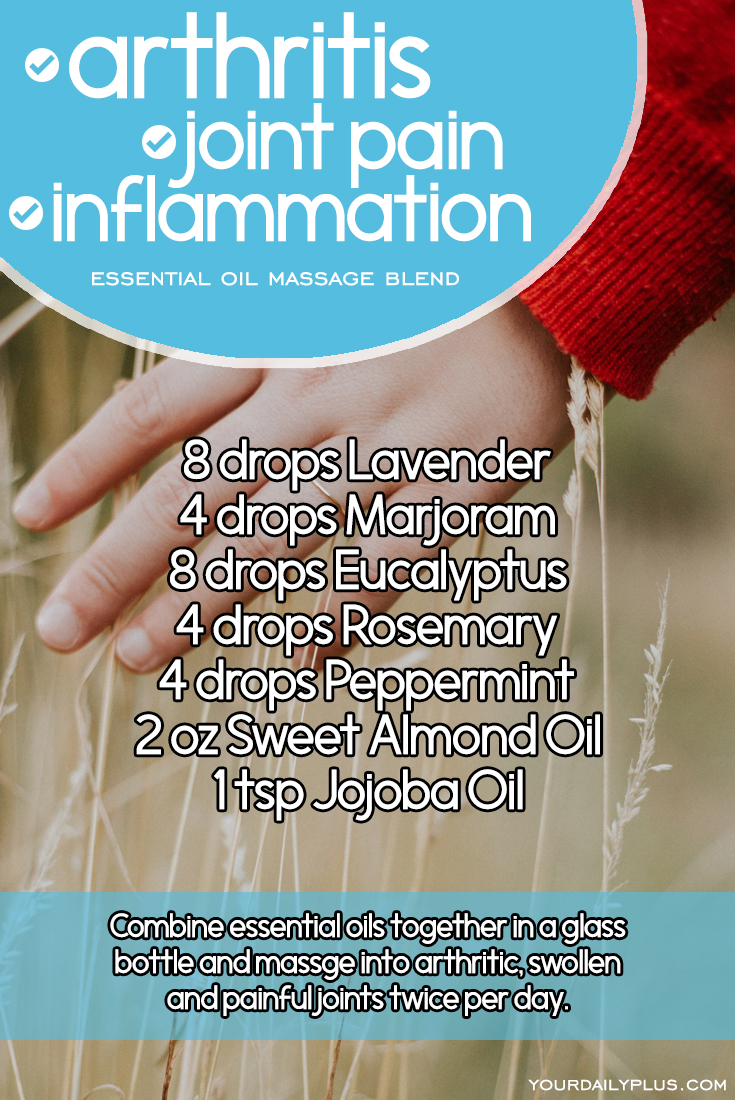 Rheumatoid Arthritis / Joint Pain / Inflammation Blend #11
2 drops Peppermint essential oil
2 drops Wintergreen essential oil
2 drops Frankincense essential oil
2 drops Eucalyptus essential oil
2 drops Cypress essential oil
2 drops Rosemary essential oil
Top off with Carrier Oil
[asa ydp_text]B0014UEQQY[/asa]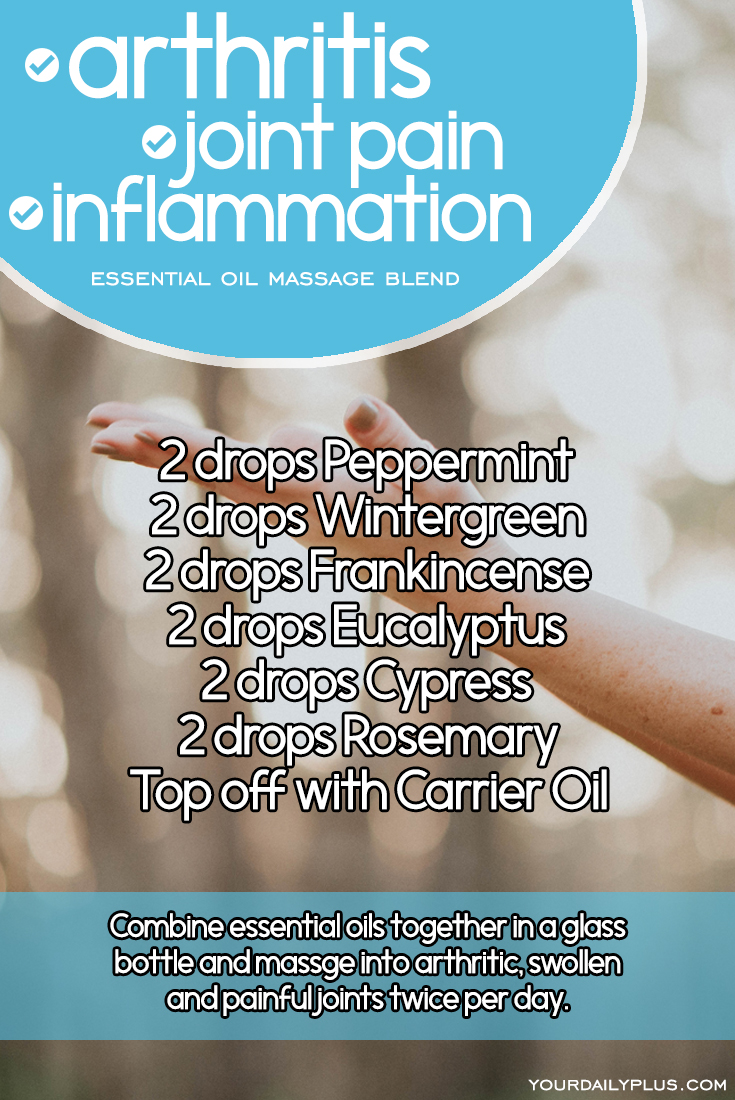 Rheumatoid Arthritis / Joint Pain / Inflammation Blend #12
3 drops Oregano essential oil
3 drops Clove essential oil
2 drops Juniper essential oil
2 drops Peppermint essential oil
2 drops Rosemary essential oil
2 drops Lavender essential oil
Top off with Carrier Oil
[asa ydp_text]B0062CTOY8[/asa]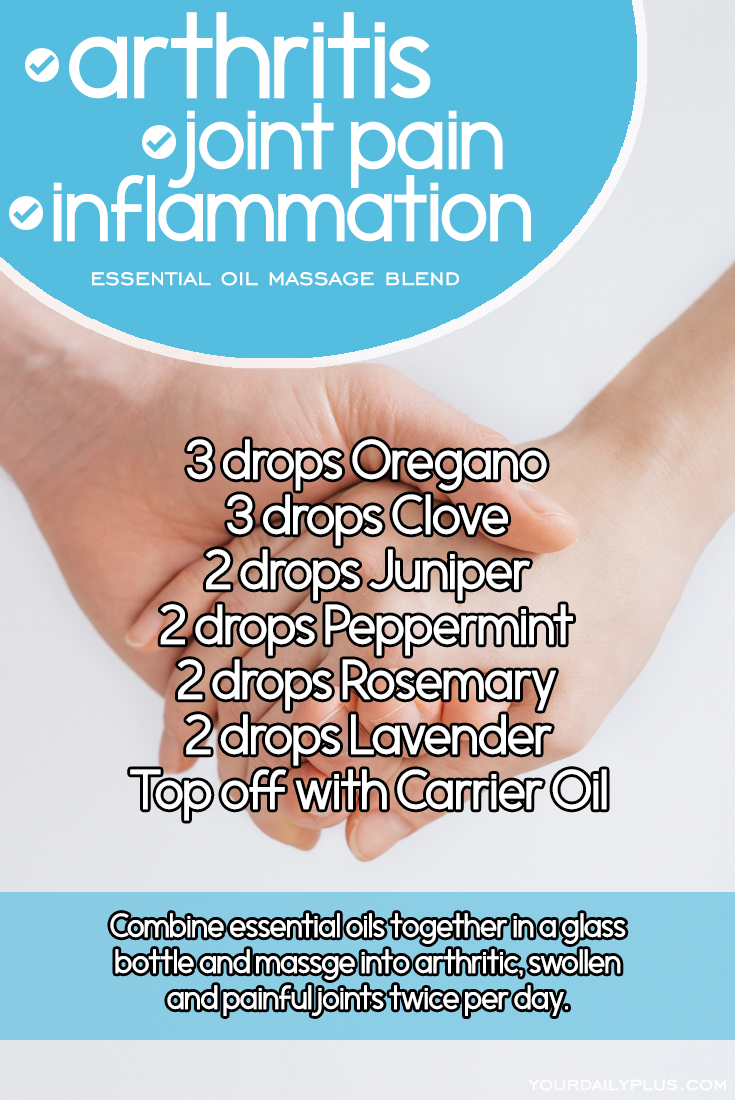 Rheumatoid Arthritis / Joint Pain / Inflammation Blend #13
2 drops Peppermint essential oil
2 drops Frankincense essential oil
2 drops Cypress essential oil
2 drops Wintergreen essential oil
2 drops Lemongrass essential oil
2 drops Geranium essential oil
Top off with Carrier Oil
[asa ydp_text]B00PHLPK1G[/asa]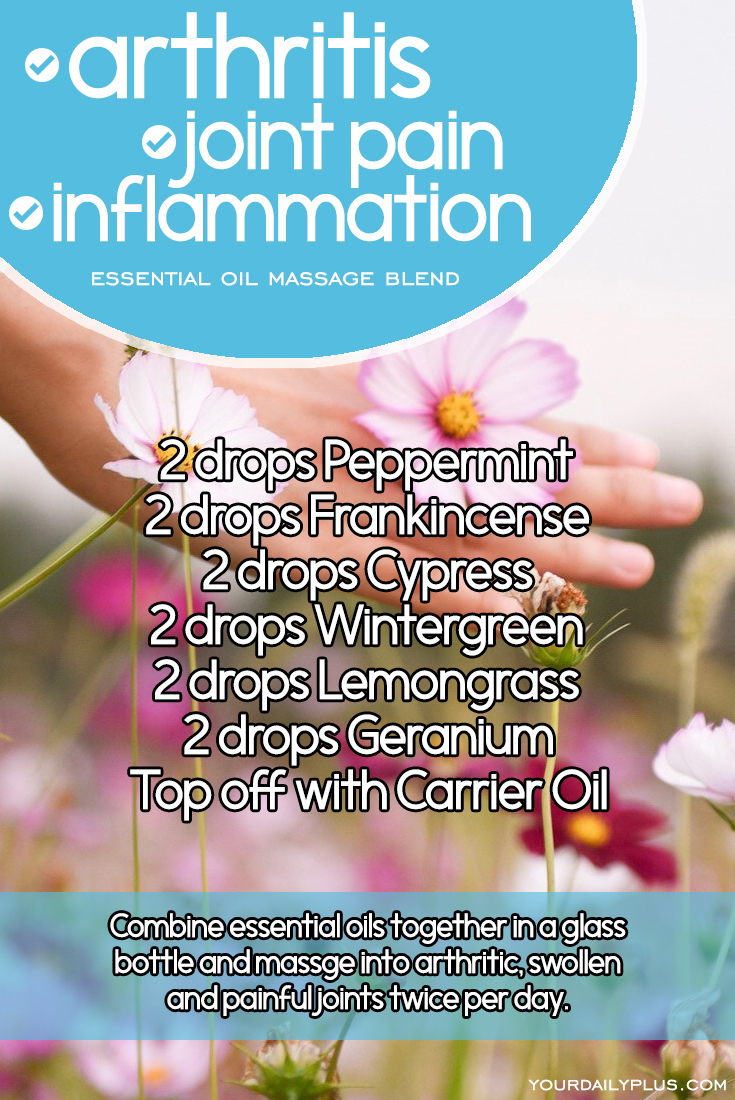 Rheumatoid Arthritis / Joint Pain / Inflammation Blend #14
5 drops Black Pepper essential oil
4 drops Juniper essential oil
4 drops Lemon essential oil
8 drops Lavender essential oil
4 drops Marjoram essential oil
2 drops Peppermint essential oil
Top off with Carrier Oil
[asa ydp_text]B004O25R4O[/asa]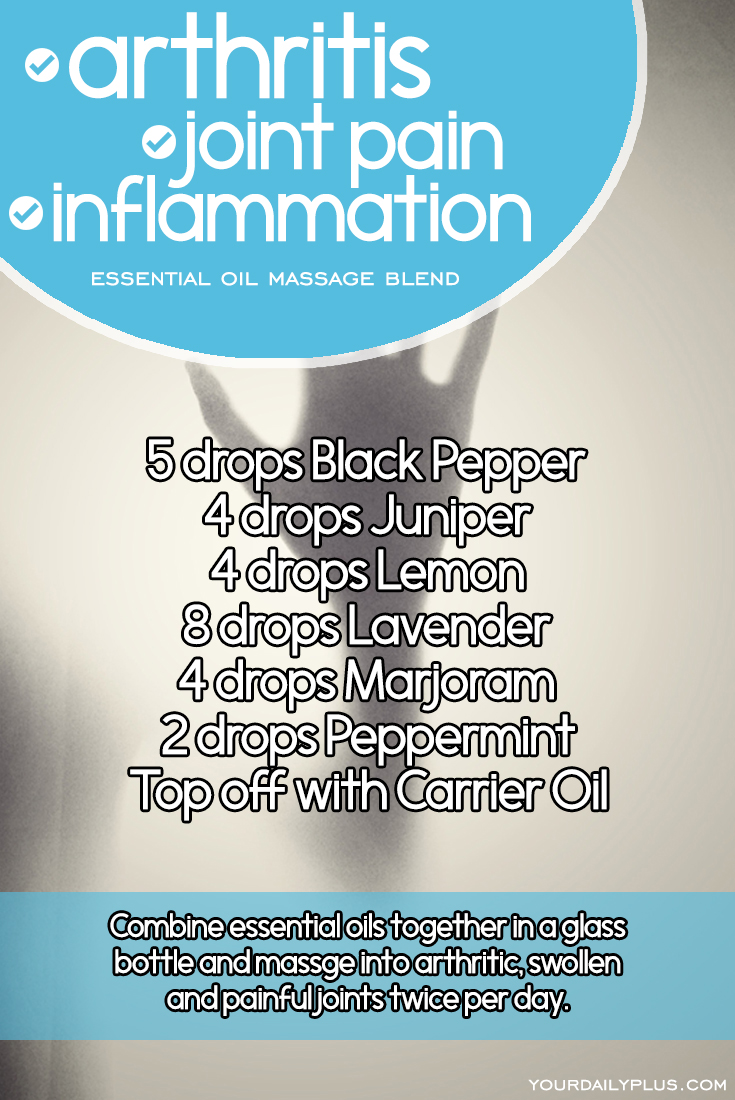 Rheumatoid Arthritis / Joint Pain / Inflammation Blend #15
4 drops Orange essential oil
3 drops Anise essential oil
3 drops Cedarwood essential oil
3 drops Neroli essential oil
2 drops German Chamomile essential oil
2 drops Roman Chamomile essential oil
25 ml Jojoba Oil
[asa ydp_text]B00O13LCFE[/asa]